About us
Hind Seva Parishad's Public Night Degree college is an institution with Missio and Vision for Upliftment of poor and resource less students of particularly Santacruz (E), Khar (E), biggest slum Dharavi and Kurla (W). The Hind Seva Parishad was founded in 1981 by our Founder Chairman and fighter by spirit Shri Yagya Narayan Shivbachcha Dube. In 1998 with cooperation of friends and supporters the Hind Seva Parishad's Public Night Degree College was established.
The vision of institution is to provide inclusive educatio facility, to fulfill educational needs of non working and working students, who are in the ration of 40:60. Attention is given to make them available scholarship/finance and to catalyze participation in educational activities. The college is named Public Night Degree College by taking inspiratin from preamble of the consitution "For the people and by the people" same is the ideology of our institution.
The collee provides ample opportunities fro the students to matue their hidden talents. College is conducting B.Com programme & other self finance courses such as B.M.S., M.Com Accountancy and M.Com Business Management. The college is permanently Affiliated to Univeristy of Mumbai & Accredited 'B' Grade by NAAC in the year 2008-09. College has all facilities including Computer Lab, Library, Gymkhana, Indoor Games Hall, Cultural Hall and Conference Room etc. to provide support to student progression.
Hind Seva Parishad was established in the year 1981 with a dream to empowering the educationally deprived section of the society in the nearby vicinity of the college. To realise this dream Shri. Yagyanarayan Shivbachcha Dube Chairman, Hind Seva Parishad started Public Night Degree College in the year 1998.
Today Hind Seva Parishad's Public Night Degree College has grown into a complete educational centre with all kinds of facilities like a well equipped Computer Lab, library enriched with all the modem learning resources, Gymkhana, Indoor game, Cultural Hall with a seating capacity of 500 Students and a Conference Room.ln the Academic Year 2008-2009 the college was Accredited with 'B' Grade by National Assessment and Accreditation Council (NAAC), Bangalore.
The college conducts B. Com., B. Sc. (IT)., B.M.S. and M.Com. (Accountancy and Management) courses as per the demand in the area. Qualified and highly dynamic faculties and trained administrative staff add to the quality of education imparted by the institution. The college makes all efforts to keep abreast with the demand of Society. Regular interaction with the resource persons from various fields is encouraged among the students.
OUR MOTTO: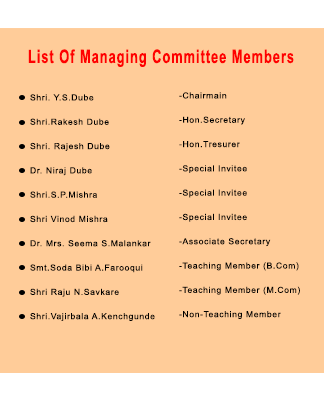 'Tamaso Maa Jyotirgamay'
"From darkness to enlightenment with the power of knowledge"
OUR VISION:
To develop the insititution into center of excellence and mould students into skilled global work force.
OUR MISSION:
Empower and elevate student's aspirations by impairing need based curriculum.
OBJECTIVES OUTLINED:
To make higher educatin accessible to needy and resource less student.
To prepare students to face challenges of life with positive spirit.
To stimulate social responsibilities through community oriented extension programmes.
To undertake a wide range of physical, cultutal, intellectual, competitive ad recreational activities.
To develop self confidence and nuture over all performance of the student.
To provide education with ethical and scientific practices in active academic collaboration with a number of industry leader of the corporate sector.
To formulate special strategies for slow learners and gifted children.
to provide quality embedded education and multicultural atmosphere
To encourage innovation and creativity in teaching learning process
To develop leadership skill for booming multinational corporate sector & enterpreneurship.
To implement a pattern of education to enable the slow learners and to realize full potential of gifted children.
To train the youths for problem solving and stress management skills.
To introduce a strategy for inculcating VALUES through Education.
To make the students socially responsible through community oriented extension programmes.
To provide education combined with extra curricular activities wherein students are trained for life management skills.
To provide balanced future leaders world over.